Happy Friday!!
Tonight, while I was completing one of my (rather strange) beauty rituals…I tried to remember where I came up with it! I decided this one stemmed from a trick my mother taught me -gotta love moms! It dawned on me that several of my absolute favorite little beauty tricks were either passed down to me or learned by some trial and A LOT of error.
I figured my lovely readers might be looking for a winter pick-me-up for their beauty routine so I wanted to share my 5 favorite beauty tricks and tips. I like to consider today's post a Part I, because I predict I will have lots more of these to share!
1. Vaseline for Eyes and Lips
I feel like I could write an entire blog post dedicated to all of the amazing uses for Vaseline…but I'll save that for another time.
I want to talk about eye makeup remover…have you checked the ingredients of yours lately? Almost every eye makeup remover out there has at least one ingredient considered harmful to the skin, depending on your skin type and sensitivity you might be experiencing some adverse reactions to the product you are using. The delicate skin around our eyes is SO sensitive especially this time of year (it is dry ya'll!) that I like to be as gentle with it as possible. Two years ago I realized that I was spending $18.00 for my 4 oz. of eye makeup remover and I wasn't even loving the results. My mother touted that she has always relied on Vaseline to remove her eye makeup. If you knew my mother you would take any beauty advice she has to offer (gals got skills!) and so I went out and purchased 13 oz of Vaseline for $2.36.
You guys…its great. Takes a minute to get used to the texture but it removes even the toughest eye makeup gently and easily! I leave some leftover on my eyes so that it can work its moisture magic in combination with my eye cream. And…while this isn't proven…I swear it helps my eye lashes grow long, lush and healthy!!
(Update! Please see comment section for a little more clarification on how to use this!)
I also smear Vaseline on my lips multiple times a day. These days…chapsticks and lip balms are cheap and unaffective or hydrating and unaffordable. I love putting Vaseline on top of a lipstick to give it a glossy shine!
2. My 'They're Real by Benefit' mascara Hack.
It is not a secret that I worship this mascara…so I feel awfully guilty about providing a little hack to save yourself some money…but when a mascara is $28.00 this kind of stuff happens!!
I can't be the first one to notice that this stuff seems to last HALF as long as my other tubes do and it sucks because it is just SO good. Essentially, I use this hack to make it last just a little bit longer. I truly believe that 75% of it's magic exists in the brush!
So, first things first, you need to get your hands on a tube of this treasure and then, you need to go to any drug store and get your hands on the Maybelline Great Lash Lots of Lashes. This is THE BEST drugstore brand mascara. I promise you.
Basically, I dip the "They're Real" brush in this formula on days/nights in which I don't need my makeup to look it's very best. Work, grocery shopping, church, etc. No one cares if my eye lashes are flawless. Nights out, date nights, important meetings, pictures, etc. I use the real stuff.
Truly, I can barely tell on the days I use the hack! And I can go much longer in between handing over my life savings for Benefit's mascara!
3. Ice Cube facials
I know I mentioned this technique before but I wanted to reiterate the magic of a quick, maybe slightly painful, but definitely refreshing ice cube facial.
This past Monday I woke up with the puffiest of eyes and cheeks. Unfortunately, Mr. Grade and I got into a little newlywed argument on Sunday evening. By bed time all was good in the world but the damage had been done….Monday morning I looked like I was stung by a bee.
So, I went downstairs, grabbed three of the biggest cubes I could find and rubbed each of them along my face until they were nothing but drops of water. Ta-da! I was refreshed and as good as new! Yes, the process is mildly uncomfortable, but not nearly as uncomfortable as people asking me all day, "do you feel alright?"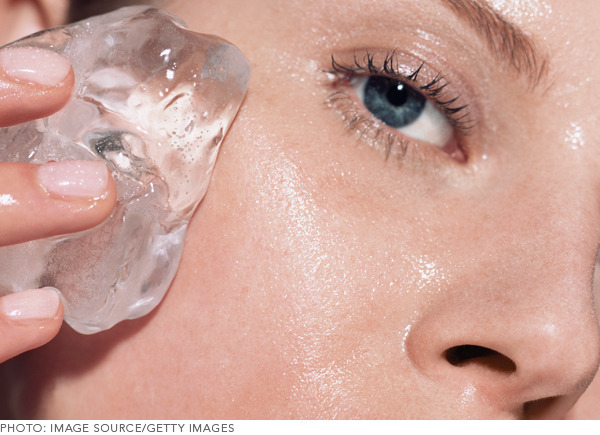 4. Baby Gel + Hempz = Silky Soft Skin
After trying a Pinterest FAIL – trying to shave with Baby Gel, gross – I decided to find another use for my recently purchased Gel. I began applying immediately after taking a shower or bath, while my skin was still very damp! Putting this stuff on dry skin is not a pleasant experience.
After that I went about my usual "get ready" routine and wait for the gel to really lock in the moisture and soak into the skin. And then, I finish it up with a healthy portion of Hempz lotion all over.
My skin stays soft and healthy all day long! No random, dry, end of day flaking.
Not to mention…I smell like a dream!
5. Baby Powder as Dry Shampoo
Once my hair reached a certain length it became painfully obvious that I did not have the time nor resources to wash it, dry it and style it every single morning. And so, I turned to dry shampoo.
I talked a bit about finding one of my favorite in a previous post…unfortunately, I was having a hard time finding it for less than $26.00 and using it much too quickly.
So, I turned to baby powder! If your hair isn't blonde….don't use it. Sorry!
But, if you are blonde, use a big puffy powder or bronzer brush to apply to your roots. Soaks up the oil AND makes your hair smell fresh and clean!
I love it because it doesn't leave a heavy, sticky feeling that some dry shampoos leave behind. Plus, I've been using the same $3.00 bottle for months!
I hope you guys all get the chance to try these out…maybe this weekend?? 🙂
And please, please, PLEASE share some of your favorite beauty tricks in the comments! Love a good beauty tip!